In today's fast-paced business world, time is money. That's why quick brochure printing is essential for achieving stellar marketing results. High-quality brochures are an excellent way to promote a business's products or services and leave a lasting impression on potential customers. With online brochure printing services, businesses can order custom brochures quickly and conveniently. Whether you need brochures for a trade show, sales pitch, or product launch, quick brochure printing can help you stay ahead of the competition.
In the next section, we will explore why quick brochure printing matters and how it can benefit your business.
Why Quick Brochure Printing Matters
For businesses looking to stay competitive, quick brochure printing is a must-have marketing tool. The advantages of affordable and fast brochure printing are numerous and can have a significant impact on a company's success.
Firstly, affordable brochure printing allows businesses to print large quantities of brochures without breaking the bank. This means that they can reach more potential customers and distribute their marketing material over a wider area, leading to greater brand recognition and increased sales.
Secondly, fast brochure printing enables businesses to meet urgent deadlines and respond quickly to market trends and opportunities. With same-day brochure printing, companies can create and distribute brochures in a matter of hours, maximizing their marketing efforts and generating leads.
Moreover, fast and affordable brochure printing can help businesses stay agile and flexible, adapting to changing market conditions and customer needs. They can test new products, services, and marketing strategies by quickly producing and distributing brochures, gathering valuable feedback and data, and adjusting their approach accordingly.
Overall, quick brochure printing is an essential tool for businesses looking to succeed in today's competitive market. By combining affordable pricing, fast turnaround times, and high-quality printing, businesses can create stunning brochures that capture the attention of potential customers and drive sales.
The Benefits of High-Quality Brochure Printing
When it comes to marketing, first impressions matter. A high-quality brochure can be the difference between potential customers choosing your business over your competitors. Professional brochure printing services can provide businesses with brochures that are visually appealing, informative, and memorable.
Here are some of the benefits of high-quality brochure printing:
| Benefit | Explanation |
| --- | --- |
| Credibility | A well-designed and professionally printed brochure can enhance the credibility of a business. It demonstrates that a business is serious about their image and their commitment to quality. |
| Brand Awareness | Brochures are a great way to increase brand awareness. By showcasing products, services, and company values, they help potential customers understand what a business is all about. |
| Increased Engagement | Brochures are a physical marketing tool that potential customers can hold and interact with. They are more likely to engage with a brochure than with a digital advertisement, making it a more effective marketing strategy. |
When it comes to brochure printing, it's important to choose a service that offers high-quality printing options. This includes selecting the right paper stock and finishes to ensure that the brochure looks and feels professional.
Overall, investing in high-quality brochure printing can lead to increased brand recognition, engagement, and credibility. It's a worthwhile marketing strategy that can have a positive impact on a business's bottom line.
The Convenience of Online Brochure Printing
Ordering custom brochures online has never been easier! With online brochure printing services, businesses can conveniently upload their designs and receive high-quality printed brochures without leaving their office.
Online printing companies also offer a wide range of customization options, including paper type and finishes, printing quantities, and delivery options to fit any business's needs. Plus, with automated proofing and tracking systems, errors can be caught quickly, and orders can be tracked every step of the way.
Fast and Reliable Same-Day Brochure Printing
When it comes to marketing, time is money. That's why same-day brochure printing can be a lifesaver for businesses in a rush. With our fast and reliable service, you can have your brochures in hand the very same day you order them.
Our team of professionals are well-equipped to handle urgent printing needs, without compromising on quality. Whether you need a small batch or a large volume of brochures, we've got you covered.
With same-day brochure printing, you can take advantage of unexpected opportunities or meet urgent deadlines with ease. Instead of waiting days or weeks for your brochures to arrive, you can have them ready to go in just a few hours.
Don't let time constraints hold you back from achieving your marketing goals. Contact us today and experience the convenience and speed of our same-day brochure printing service.
Affordable Options for Cheap Brochure Printing
Printing high-quality brochures doesn't always have to come with a hefty price tag. There are various affordable options for cheap brochure printing that businesses can consider. Here are some cost-effective solutions:
| Option | Description |
| --- | --- |
| Use a template | Many printing companies offer free templates that businesses can use to create their brochures. This option saves money on design costs. |
| Choose a standard size | Custom sizes may incur extra costs. By choosing a standard size, businesses can avoid these fees and still achieve an excellent result. |
| Order in bulk | Printing companies often offer discounts for larger orders. By ordering in bulk, businesses can save money in the long run. |
Despite their lower cost, it's important to remember that these affordable options for cheap brochure printing still provide high-quality results. By selecting the right printing company and following expert tips, businesses can print professional brochures without breaking the bank.
Expert Tips for Professional Brochure Printing
When it comes to creating a professional brochure that captures your business's essence and effectively communicates your message to potential customers, there are several key factors to consider. Here are some expert tips to ensure your brochure printing is top-notch:
Focus on design: Ensure the design of your brochure is eye-catching and easy to read. Use high-quality images and graphics, and be sure to follow any branding guidelines your business has in place.
Choose the right paper: The paper you choose for your brochure can significantly impact the overall look and feel of your marketing materials. Choose a paper that is durable and has a weight that complements the design of your brochure.
Include a call-to-action: A call-to-action prompts customers to take a specific action, such as visiting your website or making a purchase. Make sure your call-to-action is clear and easy to understand.
Be concise: Keep the text on your brochure short and to the point. Use bullet points and subheadings to break up long paragraphs and make the information easier to digest.
Consider finishes: Incorporating special finishes, such as embossing or foiling, can add an extra level of sophistication to your brochure. However, be aware that these finishes may increase the cost of your printing.
Remember, a professional brochure is a representation of your business. By investing time and effort into the design and printing process, you can create a brochure that effectively communicates your message and sets your business apart from the competition.
Frequently Asked Questions (FAQ) about Quick Brochure Printing
Here are some common questions businesses have when considering quick brochure printing:
Can I print brochures on demand?
Yes, many printing companies offer same-day printing services for brochures. This is a great option for businesses that need brochures for a specific event or promotion.
Is online brochure printing reliable?
Yes, online brochure printing is a convenient and reliable option for businesses. Many printing companies offer high-quality printing services, and you can easily compare prices and reviews before choosing a company.
How can I ensure my brochures look professional?
Choose a printing company that specializes in brochure printing and offers high-quality paper options and finishes. It's also important to invest in a professional design that showcases your brand and message effectively.
Can I print brochures in smaller quantities?
Yes, many printing companies offer affordable options for printing smaller quantities of brochures. This is a good option for businesses that have a smaller target audience or need to test a new marketing strategy.
What should I include in my brochure?
Your brochure should include a clear message, benefits of your product or service, and a clear call to action. It's important to keep the design simple and easy to read, with high-quality images and graphics.
How can I save money on brochure printing?
Choose a printing company that offers affordable options for brochure printing, such as printing in smaller quantities or choosing a more basic paper option. You can also consider designing your brochure in-house to save on design costs.
Can I print custom brochures?
Yes, many printing companies offer custom brochure printing services. This is a great option for businesses that want to showcase their unique products or services in a creative way.
Conclusion
Quick brochure printing is an effective marketing tactic that can yield stellar results for businesses. By opting for high-quality brochure printing, businesses can enhance their credibility and create a lasting impression on potential customers. Affordable and fast brochure printing options help businesses stay competitive in the market while still achieving their marketing goals.
The convenience of online brochure printing allows businesses to save time and effort by easily ordering custom brochures online. Same-day brochure printing offers fast and reliable solutions for urgent deadlines, ensuring that businesses can distribute their brochures as soon as possible. Cheap brochure printing options make it possible for businesses to print high-quality brochures without breaking the bank.
By following expert tips for professional brochure printing, businesses can create brochures that look and feel truly exceptional. Whether it's focusing on design, paper quality, or finishes, attention to detail can truly make a difference in the overall impact of the brochure.
Overall, quick brochure printing offers a range of benefits for businesses looking to enhance their marketing efforts. By understanding the advantages of high-quality brochures and exploring different printing options, businesses can achieve their marketing goals with ease and efficiency.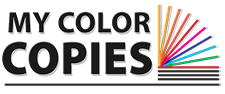 At My Color Copies we specialize in providing high-quality, affordable, and fast color copies and other digital output. Our services range from small to large-scale projects, accommodating a variety of clients, from individuals to businesses.
With a commitment to quality and customer satisfaction, we ensure top-notch print results. Your jobs will be printed using top-of-the-line print technology. Our team consists of experts in digital print technology, dedicated to bringing you the best results for your print needs.
We understand the importance of flexibility in today's fast-paced environment. Therefore, we offer a range of delivery options to meet the demands of your schedule, while also providing a safe and secure payment system for smooth online transactions.
Our online platform provides a seamless user experience, allowing you to explore, customize, and order your color copies from the comfort of your home or office.
Apart from our exceptional services, what sets us apart is our commitment to customer service. We have a team of friendly and responsive customer support staff available to assist you at every step, ensuring a smooth and satisfying printing experience.
Join us at My Color Copies, and discover customer service that will meet, and exceed, your printing and design needs. Call us at (801) 491-6931 and let us help you with your next print job.