When you're on the lookout for printing color copies near me, fast turnaround and quality are key. At My Color Copies, we tick these boxes and more. If you're in need of vibrant and impactful printed materials, our doors are open to provide you with a wide array of color copying options that will not only meet your needs but exceed your expectations. Whether it's eye-catching brochures, banners, or personalized projects, we've got you covered.
Contact us directly at 801-491-6931 or send your inquiries to [email protected] Let us assist you in making your print projects come to life with an unparalleled level of vibrancy and professionalism. And if you're in a hurry, we've got good news for you — orders placed by 11:00 AM Mountain Time from Monday to Friday ship the same day!
We're committed to ensuring that when you ask "where can I print color copies", My Color Copies stands out as your top choice. Our combination of speedy service, superior printing technology, and a commitment to our customer's satisfaction, makes us the go-to place for all your printing needs.
Key Takeaways
My Color Copies provides same-day shipping for early orders.
A broad lineup of printing products to meet both personal and professional goals.
Contact us easily via phone or email for personalized service.
Striking the perfect balance between quick service and high-quality color printing.
When searching for color copying options, consider the efficiency and range offered by My Color Copies.
Exploring Local Printing Services for Color Copies
When it comes to bringing your projects to life, nothing beats the vibrancy and impact of color copies. As your local printing services provider, we at My Color Copies take pride in delivering professional color copying services to ensure that every print leaves a lasting impression.
From the simplest flyers to the most intricate wedding invitations, we understand the power of color in communication. That's why we are considered the best print shop for color copies, as we combine our passion for print with the latest in technology to create materials that truly stand out.
We believe that our range of options can suit any need, whether it's for personal use or professional brand enhancement. Take a look at our offerings and see how we can assist you in making a substantial impact:
Eye-catching color flyers to broadcast your message.
Professional newsletters to keep your audience informed.
Visually appealing menus that add to the dining experience.
Personalized funeral programs to honor your loved ones.
Charming wedding invitations that set the stage for your big day.
Our professional color copying services are not just a means to an end – they are an essential part of your message, your brand, and your story.
We don't just print; we partner with you to ensure that each project accurately reflects the essence of your message. Here's a snapshot of our most admired services, showcasing that quality and versatility go hand in hand at My Color Copies:
| Service | Description | Impact |
| --- | --- | --- |
| Full-Color Banners | Large format printing for events and promotions. | Makes a bold statement in any setting. |
| Color Brochures | Detailed and vibrant promotional material. | Increases brand awareness with a professional touch. |
| Posters | Custom designs turned into eye-catching prints. | Perfect for events, promotions, or personal use. |
We take enormous pride in serving our local community with printing solutions that are not only accessible but also of the highest caliber. Our dedicated team at My Color Copies works with a commitment to excellence, ensuring that every color copy we produce isn't just seen—it's remembered.
Contact us now to discover our full spectrum of high-quality color copying options and how we can help amplify your message with a splash of color.
The Convenience of Online Color Copy Printing
At My Color Copies, we understand the essence of efficiency in today's fast-paced world. Our online color copy printing services offer a seamless experience, allowing you to order high-quality prints from the comfort of your home or office. The ease of use and the ability to manage print jobs virtually, make our online printing services highly sought-after for businesses and individuals alike.
Benefits of Printing with My Color Copies Online
The advantage of choosing us for your online color copy printing needs goes beyond convenience. We pride ourselves on providing a spectrum of benefits that enhance your printing experience. Here's why you should opt for My Color Copies:
Accessibility: Our platform is user-friendly, making it simple to upload your documents and customize your order according to your specifications.
Cost-Effectiveness: You can enjoy competitive pricing without compromising on the quality of your color copies, thanks to our efficient online processes.
Customization: A wide range of options is available, from paper types to finishing touches, to make sure your project matches your vision.
Experience top-tier printing quality with the ease of online ordering and the promise of vibrant, lasting colors—the hallmarks of My Color Copies.
Understanding Online Printing Turnaround Times
One of the key benefits of working with us is our promptness. We offer one of the fastest online printing turnaround times in the industry. Here's a straightforward look at how we ensure that your prints reach you in record time:
| Order Deadline | Turnaround |
| --- | --- |
| Orders placed by 11:00 AM MST | Same day shipping |
| Orders after the cutoff time | Next business day shipping |
We guarantee that orders placed by 11:00 AM MST will be shipped out the same day, aligning perfectly with our commitment to same day color copies. This ensures that you receive your prints swiftly and can stick to your tight schedules without a hitch. Our online printing turnaround times are optimized for your convenience, making My Color Copies the go-to provider when every moment counts.
Cost-Effective Strategies for Printing Color Copies
At My Color Copies, we understand the significance of managing budget without compromising on the vibrancy and clarity of your printed materials. That's why we offer affordable color copying solutions tailored to a variety of needs. Striking the perfect balance between cost and quality, our color copy pricing ensures you get the best value possible.
Every project is unique, and we aim to make inexpensive color printing accessible for everyone. Whether you need a small batch of flyers or a large order of brochures, our transparent pricing structure is designed to help you make informed decisions. Below, we've outlined our pricing for different quantities and sizes to help guide you through the process.
Optimizing your print budget doesn't mean you have to compromise on quality. It's about making smart choices that enhance value.
| Quantity | Size | 1 Side Color (24# Paper) | 2 Sides Color (28# Paper) | Color / B & W (28# Paper) |
| --- | --- | --- | --- | --- |
| 100-249 | 8.5×11 | $0.26 | $0.52 | $0.36 |
| 250-499 | 8.5×11 | $0.22 | $0.44 | $0.32 |
| 500+ | 8.5×11 | Starting at $0.14 | Starting at $0.28 | Starting at $0.24 |
| 100+ | 11×17 | $0.50 | $1.00 | $0.60 |
Our additional services, including cutting, folding, and binding are available at competitive rates, so you can fine-tune your print job to your exact specifications. The table below clearly outlines these add-on services, helping you plan for a more comprehensive and polished final product.
| Service | Details | Pricing |
| --- | --- | --- |
| Cutting | Per 500 pages | $5.00 |
| Folding | Per page | $0.02 |
| Saddle-Stitching | Per booklet | $0.25 |
| Comb Binding | Starting rate | $1.95 |
For those seeking to elevate the feel and appearance of their color copies, we offer paper upgrade options. Whether it's a glossy finish for a marketing brochure or a durable cover for an important presentation, these upgrades can make all the difference while still keeping an eye on your bottom line.
Our **80# Gloss Text** provides a high-quality sheen that makes images pop.
The **100# Matte Cover** option brings a sophisticated and tactile experience.
For durability and impressiveness, our **14 pt. Coated Cover** is unbeatable.
At My Color Copies, affordable color copying doesn't mean a compromise on quality or service. Our goal is to provide you with excellent products and a clear understanding of color copy pricing, so you can make the choices that work best for your project and pocketbook. Trust us for inexpensive color printing that brings your vision to life without draining your resources.
Quality Matters: Choosing the Right Paper for Your Color Copies
In the world of printing, paper types are pivotal to the final outcome of your color copies. At My Color Copies, we have a deep understanding of how each paper type can affect the color reproduction quality of your projects. Whether we're discussing vibrancy, texture, or overall feel, rest assured that our personalized paper quality options cater to a wide range of needs and preferences, ensuring that every detail of your design is represented in the highest grade possible.
Let's delve into how different paper types can significantly influence your color copies. The selection of paper is not just a trivial choice; it is a decision that plays an integral role in the perception of your printed materials. The right paper can make your colors leap off the page with vibrancy and clarity, defining the success of the communication your document aims to achieve.
Paper Types and Their Impact on Color Reproduction
Different paper stocks come with various characteristics that can dramatically alter the appearance of your final print. Below, we outline some of the paper types and their common uses:
Gloss Text: Ideal for photos and vibrant designs, giving them a shiny finish that catches the light.
Matte Cover: Best for a professional, sophisticated look with minimal glare, making it easy to read.
Coated Cover: Often used for business cards and postcards, providing a sturdy feel and vibrant color display.
Understanding these nuances is our specialty. We guide you through the selection process, helping you choose a paper that enhances the communication objectives of your print.
My Color Copies Paper Upgrade Options Explained
To achieve high-quality color copying, upgrading your paper is a cost-effective way to elevate the overall presentation. Here at My Color Copies, we provide a variety of paper upgrade options that make a world of difference in the tactile and visual experience of your prints. Take a look at our table below to understand the upgrades available and choose the one that aligns with your project's requirements.
| Paper Upgrade | Benefits | Additional Fee |
| --- | --- | --- |
| 80# Gloss Text | A glossy sheen that heightens color vibrancy | + $.05 |
| 100# Matte Cover | A thick, unreflective finish for a sophisticated feel | + $.12 |
| 80# Gloss Cover | Sturdy with a glossy finish that makes colors pop | + $.15 |
| 100# Gloss Cover | Extra thickness for a luxury feel and high sheen | + $.18 |
| Label Stock | Adhesive backing for labels and stickers | Fee to be determined |
These paper choices are more than just a background for your information; they enhance your message, setting the tone for how your audience engages with your material. Our commitment at My Color Copies is to provide you with differentiated paper upgrade options that complement your design and uphold the integrity of your colors.
When the tactile sensation of paper aligns with your visual designs, you deliver a message that's both impactful and memorable. Embrace our personalized paper quality for a product that stands out in a sea of standard prints.
"In high-quality color copying, the choice of paper is just as crucial as the quality of color reproduction."
Have questions about which paper option will best suit your next project? Don't hesitate to reach out. We're here to help you make an informed decision, ensuring your color copies make the striking impression you're aiming for.
Custom Color Copying Services for Personalized Projects
At My Color Copies, we understand the importance of individuality in every project you undertake. This is why our custom color copying services are designed to cater to the most personalized printing solutions. Whether it's crafting the perfect wedding invitations or creating a touching funeral program, our goal is to deliver a product that not only meets but also amplifies the uniqueness of your special occasion.
Our expertise in unique color copying services ensures that every detail of your vision is captured. We offer a broad spectrum of customization options to help bring your creative concepts to life with precision and flair. Have a specific theme in mind? Our team is dedicated to making it a printed reality.
Our personalized printing solutions are not just about getting the job done; they're about creating memories that last well beyond the first impression.
Below, we've highlighted the possibilities that our customization services unlock for your projects. Our commitment to excellence shines through in each bespoke piece we produce:
| Custom Printing Option | Features | Benefits |
| --- | --- | --- |
| Tailored Wedding Invitations | Custom themes, elegant paper options, intricate designs | Create a stunning first impression of your big day |
| Memorable Funeral Programs | Thoughtful layouts, photo inclusions, personalized tributes | Honor your loved one with a beautiful, lasting keepsake |
| Business Personalization | Branded colors, logos, business-specific designs | Strengthen brand identity with professional flair |
| Custom Poster Prints | Oversized options, vivid color, unique imagery | Capture attention and communicate your message effectively |
| Unique Greeting Cards | Personal messages, special occasion themes, various sizes | Convey warm wishes with a personal touch |
Selecting from our range of custom options allows your materials to resonate with your audience on a personal level. The power of personalized printing solutions is evident when a simple piece of paper is transformed into a token that elicits emotion and marks a moment in time.
We help you select the right paper stock to make your colors dazzle.
Our team advises on design aspects to elevate the visual appeal of your print.
We ensure your branding is consistent across all print materials for business needs.
Our cutting-edge printing technologies produce high-definition finishes for all projects.
Our commitment at My Color Copies is to provide an experience that's as unique as each of our clients. When you choose us for your printing needs, you're not just another order; you're a creator, sharing parts of your story through our custom color copying capabilities.
Embark on your journey to creating personalized projects that stand out. Reach out to us, and let's make your next project unforgettable.
Professional Color Copying for Businesses and Events
At My Color Copies, we recognize that vibrant and polished marketing materials are essential in capturing attention and enhancing the brand identity. That's precisely why we've honed our professional color copying services to perfection. High-quality brochures, impactful flyers, and eye-catching banners are just a snippet of what we provide to businesses and event organizers aiming to stand out.
The Role of Color in Marketing Materials and Branding
The strategic use of color in marketing materials can make a world of difference when it comes to branding and promotional efforts. It's not just about aesthetics; it's about conveyance, attention, and retention. Expertly utilized, color copying enriches your branding and helps etch your message into the minds of your audience.
Professional color copying for businesses isn't just a task; it's an art form that brings your brand to life, one vibrant shade at a time.
A strong brand image supported by quality marketing materials communicates professionalism and cohesiveness, contributing significantly to how clients perceive a company. From the visual appeal of marketing material color copying to the tactile feel of high-grade paper in their hands, every aspect plays a crucial role in branding.
Brochures that narrate your story with rich hues and clear imagery.
Flyers that shout your message from the rooftops, with colors that can't be ignored.
Banners that make a statement at every event with stunning graphics and durability.
When it comes to such integral communication tools, settling for the standard is out of the question. Here, we've presented a table that outlines the different types of professional color copies available and how they can serve your business or event needs:
| Color Copy Type | Purpose | Advantages |
| --- | --- | --- |
| Brochures | Informative branding materials | Easy distribution, comprehensive branding, and succinct messaging |
| Flyers | Promotions and announcements | Cost-effective, high visibility, and engaging designs |
| Banners | Events and corporate visibility | Durable, large format for maximum impact, versatile for indoor/outdoor use |
We understand that your brand is unique and demands a personalized touch. These printed touches not only enhance the visual appeal but also fortify branding with color copies. Armed with advanced technology and a passionate team, we at My Color Copies, are eager to assist you in creating marketing materials that resonate with your audience, building brand recognition and loyalty.
Same Day Color Copies: Rapid Printing Solutions Near You
Understanding the urgency of last-minute print needs, we at My Color Copies are proud to offer same day color copies for our clients. This swift service is specifically designed for those critical moments when time is of the essence and deadlines are looming near. Place your order before the designated morning cutoff time, and rest assured that your high-quality copies will be shipped out on the same business day.
Time-sensitive projects require rapid printing solutions near me, and that's precisely what we deliver with efficiency and reliability.
Whether it's last-minute presentations, urgent meeting materials, or a rush job for an upcoming event, our commitment to expediency does not come at the expense of quality. Here's a glimpse into how we ensure top-notch results in a fraction of the usual time:
We use state-of-the-art printing technology that accelerates the printing process without compromising on the vividness and sharpness of your copies.
Our team of dedicated experts prioritizes expedited orders to ensure that your same day requests are met with precision and care.
Our streamlined order and fulfillment system is optimized to handle quick turnarounds, making sure that same-day orders are processed efficiently.
Same day color copies are more than a service – they're a promise to deliver when it matters the most. To illustrate our commitment to rapid service without sacrificing quality, consider the table below reflecting our dedication and readiness to meet your pressing deadlines:
| Order Time | Shipping Details |
| --- | --- |
| Before 11:00 AM MST | Same-day shipping guaranteed |
| After 11:00 AM MST | Next business day shipping |
We honor the trust you place in us by ensuring that your projects are not just delivered on time, but also exhibit the high-quality craftsmanship that people have come to expect from My Color Copies. So the next time you find yourself in need of rapid printing solutions near me, know that we are here, ready and able to help you cross that finish line with time to spare.
High-Quality Color Copying on a Budget
At My Color Copies, we specialize in providing high-quality color copying on a budget, ensuring that each project meets our rigorous standards without putting a strain on your finances. We take pride in breaking down cost factors in color copy services to paint a transparent picture of what you're paying for and why it offers superior value.
Understanding the nuances of cost-effective printing services is essential. It's about knowing where you can make smart savings without detracting from the vibrancy and integrity of your final print. Whether it's a batch of business cards, promotional flyers, or detailed brochures, our pricing strategy is tailored to help you max out on quality while keeping costs minimal.
Breaking Down Cost Factors in Color Copy Printing
Let's delve into the aspects that play a role in establishing color copy pricing, highlighting quantity discounts, paper selections, sizes, and additional services that can shape your overall budget.
We believe everyone deserves to have access to top-tier color copies without overspending. Here's our guide to understanding how you can publish with panache while pinching pennies.
| Quantity (Letter 8.5×11) | 1 Side Color (24# Paper) | 2 Sides Color (28# Paper) | Color / B&W (28# Paper) |
| --- | --- | --- | --- |
| 100-249 | $0.26 | $0.52 | $0.36 |
| 250-499 | $0.22 | $0.44 | $0.32 |
| 1500-1999 | $0.16 | $0.32 | $0.26 |
As the table above shows, the more you print, the more you save. This bulk pricing structure is how we ensure our services remain affordable and rewarding, especially for larger projects.
Orders for 500 or more pieces get even lower rates, starting at just $0.14 for single-sided color copies on 24# paper.
For big events that require visibility, our poster sizes begin at an affordable $0.50 for a single side on a standard 11×17 paper.
Beyond the quantity and size, paper upgrades and finishing touches also influence the cost. Upgrading to premium paper, while slightly increasing the expense, can provide that extra finesse that elevates your project from ordinary to outstanding.
Keep in mind:
Extra services like cutting, folding, and binding, while small individually, can accumulate, impacting the overall cost. It's these careful selections that govern the economic efficiency of your project.
| Paper Upgrade | Additional Cost (Letter Size) |
| --- | --- |
| 80# Gloss Text | + $0.05 per page |
| 100# Gloss Cover | + $0.18 per page |
| 14 pt. Coated Cover | To be determined |
Each upgrade serves a purpose, whether it's enhancing the tactile experience with a heavier stock or adding a shine with a gloss finish. Here's where our team can help guide you through the options to match your budget with the desired outcome.
Considering a thinner paper can cut costs upfront and is well-suited for mass circulation materials like flyers or newsletters.
Opting for thicker, premium stock adds a sense of luxury and is ideal for invitations or business cards.
Delivering high-caliber color copies at economical prices is our forte. We take into account your goals, your audience, and your budget to curate a color copying solution that wins on all fronts.
We invite you to discuss your budget and printing needs with us. Our team is always ready to help you navigate through our services, ensuring that your project achieves the high-quality color copying on a budget you aspire to. Get in touch today and let's print smartly together.
Conclusion
Throughout our exploration of affordable color printing, it's clear that My Color Copies stands at the forefront, blending cost-effectiveness with impeccable quality color copies. As we've walked through the breadth of our services, we've uncovered how versatility in paper types, customization, and printing options meet a multitude of needs, whether personal or professional. Our focus has been on – and will always be – providing you with efficient printing services that ensure your project's success without stretching your budget.
For those moments when you find yourselves pondering, "Where can I print color copies near me?", know that our swift online turnaround times, along with our dedication to customer satisfaction, make us an unrivaled choice. The true essence of our services lies in our commitment to deliver a product that resonates in quality, vibrancy, and tactile pleasure. It's this synthesis of excellence and affordable color printing prowess that sets My Color Copies apart.
As we draw this discussion to a close, we invite you to experience the blend of affordability, quality, and efficiency firsthand. Whether you're producing flyers for a community event, designing menus for a new restaurant, or planning a wedding, our team is poised to bring your vision to life. Trust us to be your ally in printing—today, tomorrow, and for all your future endeavors.
FAQ
Where can I print color copies near me?
You can print high-quality color copies at local printing services like My Color Copies, which offer a wide range of printing options including vibrant color brochures, banners, and other promotional materials. With same-day shipping for orders placed by 11:00 AM MST, you can quickly have your prints in hand.
What are some of the best print shops for color copies?
The best print shops for color copies tend to have a combination of high-quality copying services, quick turnaround times, and a range of customizable options. Look for professional services like My Color Copies that are known for their quality production and efficient service.
What are the benefits of printing with My Color Copies online?
My Color Copies provides the convenience of printing from anywhere with quality service and flat rate shipping. They guarantee same-day dispatch for orders placed before 11:00 AM MST, offering a quick solution for your urgent printing needs while ensuring your materials have a professional finish.
How fast is the online printing turnaround time?
Online printing services like My Color Copies offer same day shipping for orders placed by 11:00 AM MST, ensuring that your materials are printed and dispatched rapidly, often on the same day, meeting the needs of time-sensitive projects.
What makes color copying affordable?
Color copying becomes affordable when you take advantage of services like My Color Copies that offer transparent pricing, quantity discounts, and various paper and size options that help control costs without compromising on quality.
How do paper types influence the color reproduction quality?
Paper types greatly influence the vibrancy, contrast, and overall visual impact of your printed materials. The quality and finish of the paper, from gloss to matte, can enhance or mute colors, affecting the reproduction quality of your color copies.
What paper upgrade options does My Color Copies offer?
My Color Copies offers paper upgrades including 80# Gloss Text, Matte Cover, Gloss Cover, and Label Stock to enhance the aesthetic quality of your projects. These upgrades are available for an additional fee and can significantly improve the feel and impact of your color copies.
Can I get custom color copying services for my personalized projects?
Yes, you can! My Color Copies offers custom printing services that allow for personalization of your projects such as wedding invitations and funeral programs, providing a high degree of customization to make each project memorable and unique.
Why is color important in my business's marketing materials?
Color is a critical element in marketing and branding because it can influence emotions, drive brand recognition, and highlight key messages. Utilizing professional color copying services like those offered by My Color Copies can enhance visibility and effectiveness of business materials and event promotions.
How quickly can I get my color copies made?
If you are in a rush, My Color Copies offers same-day printing solutions for orders placed before their 11:00 AM MST cutoff, allowing you to receive your printed materials promptly, often on the same day—perfect for last-minute needs.
What should I consider when trying to keep color copying costs down?
When aiming for high-quality color copying on a budget, consider factors such as the quantity (bulk discounts may apply), paper type, size, and whether you require additional services like cutting, folding, or binding. My Color Copies lays out these costs clearly, helping you make cost-effective decisions for your printing projects.
Source Links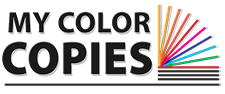 At My Color Copies we specialize in providing high-quality, affordable, and fast color copies and other digital output. Our services range from small to large-scale projects, accommodating a variety of clients, from individuals to businesses.
With a commitment to quality and customer satisfaction, we ensure top-notch print results. Your jobs will be printed using top-of-the-line print technology. Our team consists of experts in digital print technology, dedicated to bringing you the best results for your print needs.
We understand the importance of flexibility in today's fast-paced environment. Therefore, we offer a range of delivery options to meet the demands of your schedule, while also providing a safe and secure payment system for smooth online transactions.
Our online platform provides a seamless user experience, allowing you to explore, customize, and order your color copies from the comfort of your home or office.
Apart from our exceptional services, what sets us apart is our commitment to customer service. We have a team of friendly and responsive customer support staff available to assist you at every step, ensuring a smooth and satisfying printing experience.
Join us at My Color Copies, and discover customer service that will meet, and exceed, your printing and design needs. Call us at (801) 491-6931 and let us help you with your next print job.